2/10/2022
Five UNF scholar athletes awarded IGNITE Diversity Scholarships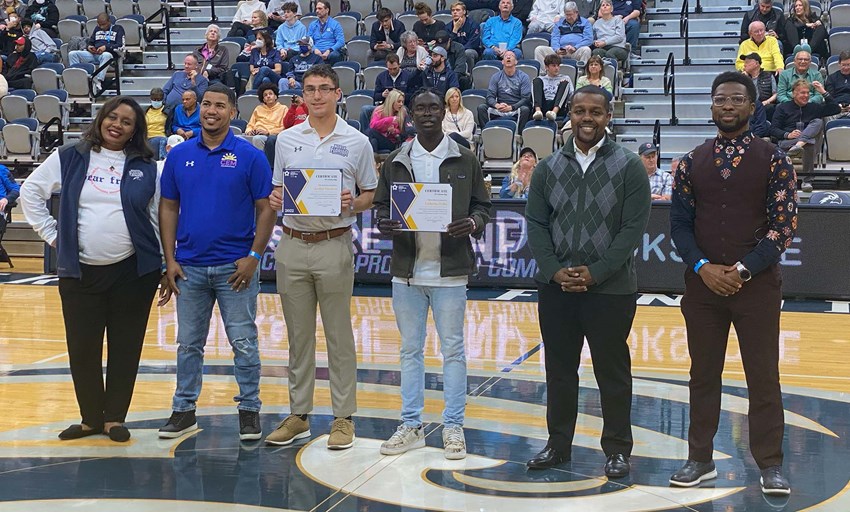 Five University of North Florida athletes were awarded $2,500 scholarships funded through the Jacksonville Public Education Fund (JPEF) in partnership with the CEM Foundation as part of JPEF's commitment to recruit and retain 1,000 diverse teachers by 2025.
Research has shown that all students benefit from having diverse teachers as role models. Students of color are disadvantaged by lack of teacher diversity as they are more likely to be seen as discipline problems and less likely to qualify for gifted and talented programs.
JPEF's original research showed Black and Hispanic male teachers made up less than 10% of teachers in Duval County Public Schools, while Black and Hispanic students make up about 60% of the student body. The Duval County numbers mirror those across the country, where the shortage of diverse male teachers is also acute. 
The University of North Florida College of Education and Human Services is among the partners working in conjunction with JPEF to address the diversity gap. 
"Teachers provide academic instruction as well as learning related to physical education and health in our public schools. Many teachers also serve as coaches for various athletic programs," said JPEF President Rachael Tutwiler Fortune. "We are grateful to the CEM Foundation and our partners at UNF to be able to offer these scholarships which will get us closer to our goal of retaining and recruiting 1,000 diverse male teachers by 2025."
Ladarius Tellis, Jordan Travieso, Jadyen Parker, Jordan Preaster and Jose Placer will each receive scholarships and will be provided with membership into JPEF's IGNITE Young Professionals Group, sponsored by the CEM Foundation. Tellis and Travieso are freshmen on the UNF track team, while Parker, Placer and Preaster are on the UNF basketball team. Parker is a freshman; Placer is a redshirt sophomore; and Preaster is a sophomore.
JPEF's commitment to the 1,000 diverse male teachers by 2025 initiative has received strong support among community organizations and funders, including the NewSchools Venture Fund, which awarded JPEF a $200,000 grant for the diversity initiative.